I have been invoved in Christian dance since 1991, having received a prophetic word about it in 1987. The prophecy was that I would lead many others into praise and worship dance. I have had no formal dance training, the Lord provided me with a mentor who taught me some basic movements. I began to choreograph worship songs under the anointing of the Holy Spirit, and have done "presentation" pieces in meetings, both solo and in a group.
I learnt Israeli folk dance, used the steps to choreograph praise songs, and have been leading Israeli/Davidic workshops since 1992. My love of Israeli/Davidic dance has led me to learn biblical hebrew, though only at a basic level.
I have done some work with flags and ribbons, and have led beginners workshops. In May 1998 I started to learn tambourine dance, being taught from Magrate Yap's manual "Make a joyful noise unto the Lord". I have now progressed to a more advanced level and have taught beginners. I belong to a tambourine dance group called Perazim that ministers both locally and further afield.
I enjoy producing costumes for dance, and have been an experienced dressmaker since my teens. Whilst I have been dancing for the Lord He has expanded my gifting into design and pattern cutting. I have been given the ability to turn a vision into a garment. I have attempted to share some of my experience on the "how to make" pages, helping those with some sewing ability make their own resources.
I am a Regional Coordinator for the Christian Dance Fellowship of Britain (CDFB), and am involved in arranging and leading workshops in East Anglia. I have also done workshops for specific churches, usually where little or no dance has been used previously. It is exciting to see people venture in to creative worship for the first time! I produced some simple typed notes for workshops, and it is these I have used as the basic material for this website. I was led by God to create this site, and was provided with easy software to do it. I will continue to offer my gifts back to Him, to be used in His service, for His glory.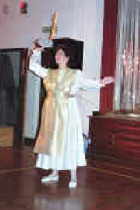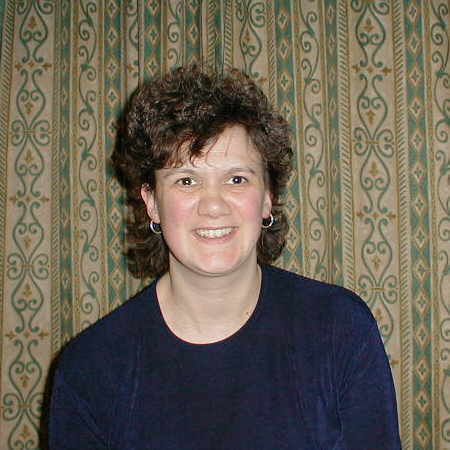 Bona worshipping with her tambourine to the song
"Shout to the Lord"